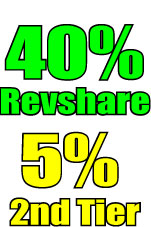 The Porno Dinero Partnership Affiliate Program for adult webmasters offers You a 40% commission on every sale you refer to any of our pay websites, PLUS you get a 5% commission on all sales generated by webmasters you refer to the Porno Dinero affiliate program!
On Time Payouts:
Checks and wire transfers are sent out every single week on time, every time! We use CCbill to process our transactions, so you get maximum protection against all fraud and chargeback risk.
Exclusive Content:
Make money with the sites that we offer with content you cannot find anywhere else on the net! Our exclusively shot videos and photo sets are only accessable through our websites, so if a user wants to see them, they have got to sign up. Which means more Dinero for your pockets!



Our Websites:
Kelsey Obsession
Fart Fantasy
Fart Dom
Lesbian Ass Worship


Cash Bonuses:
We pay out Cash bonuses. If we offer a prize, we offer it's cash value as an alternate. I don't know about you, but I've already got plenty of electronics and a car, how about some "Dinero" for my bank account? Either way, the choice is Yours!
Hosted Promo Tools:
Why pay for bandwidth when you can just link to us for your ad and gallery hosting using our hotlinkable banners and hosted galleries and free sites.